Hairdressers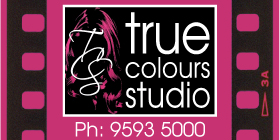 *True Colours Studio - Hairdressers Waikiki Rockingham - Waikiki, WA 6169

ROCKINGHAM
Hairdresser Waikiki, Rockingham. Beauty Therapy Waikiki, Rockingham, Warnbro
Port Kennedy Beauty Salon. Find all you need for that special occasion in one shop: Hairdresser, Beauty Therapy, Spray Tans... Hairdresser Salon located in Waikiki Rockingham also Beauty Therapy available. Pensioner Discounts and Loyalty Cards. Now even better with their sister salon Neo Hair from Rockingham Sunray Village merged within the one Salon 2/645 Safety Bay Road, Waikiki
CLICK FOR FACEBOOK ON FEATURE
---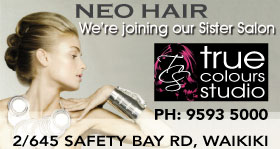 *Neo Hair Salon - Merged with True Colours Studio, Waikiki Hairdressers - Waikiki, WA 6169

ROCKINGHAM, WAIKIKI ALL AREAS
HAIRDRESSERS WAIKIKI ROCKINGHAM HAIRDRESSERS SAFETY BAY, HAIR SALON WARNBRO.
KERATIN SMOOTHING ROCKINGHAM. KIDS CUTS ROCKINGHAM, MENS BARBER
WE HAVE NOW MOVED AND MERGED WITH OUR SISTER SALON, TRUE COLOURS STUDIO, LOCATED 2/645 Safety Bay Road, Waikiki, Phone 9593 5000
Our staff are now working at True Colours Studio.
CLICK FOR FACEBOOK ON FEATURE
---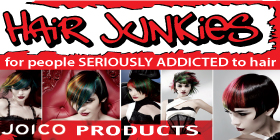 *Hair Junkies - Hairdresser Waikiki, Safety Bay, Rockingham - Safety Bay, WA 6169

ROCKINGHAM SAFETY BAY WAIKIKI
HAIRDRESSER WAIKIKI. HAIRDRESSER ROCKINGHAM. LOCATED WITH TRUE COLOURS STUDIO, SAFETY BAY, JOICO PRODUCTS ROCKINGHAM.
For people SERIOUSLY ADDICTED to hair:
Update your look - Cuts, Colours & Foil Packages, Upstyles, Joico Products.
---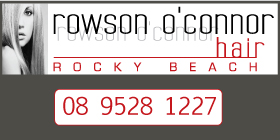 *Rowson O'Connor Hair Rocky Beach - Hairdresser Rockingham - Rockingham, WA 6168

ROCKINGHAM
HAIRDRESSERS ROCKINGHAM. HAIR SALON AND STOCKIST ROCKINGHAM, DAVINES, JUUCE AND PURE PRODUCTS
Award winning Salon. Established for over 12 years. Exciting Professional Team.
Stylists to suit. Welcome to call in for advice or a consultation.
ROWSON O'CONNOR HAIR ROCKY BEACH SALON, ROCKINGHAM, BALDIVIS, SAFETY BAY, SHOALWATER SALON .
CLICK FOR HAIRDRESSING SERVICES BUTTON ON FEATURE

---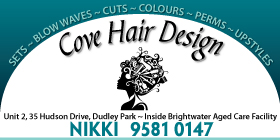 *Cove Hair Design - Hairdresser Dudley Park Mandurah - Dudley Park, 6210

MANDURAH SURROUNDS
DUDLEY PARK UNISEX HAIR SALON MANDURAH ~ Inside Brightwater Aged Care Facility
MANDURAH BRIGHTWATER AGED CARE FACILITY HAIRDRESSER, HALLS HEAD HAIRDRESSER PINJARRA, GREENFIELDS AGED CARE HAIRDRESSER BALDIVIS, ROCKINGHAM WHEELCHAIR ACCESS HAIR SALON MANDURAH.
• Catering for aged care residents, family, friends, community • A fully equipped Unisex Hair Salon • Nikki has 30 years experience • Accessible to wheelchairs • Affordable, Pensioner Discounts & Eftpos
SETS ~ BLOW WAVES ~ CUTS ~ COLOURS ~ PERMS ~ UPSTYLES
CLICK FOR FACEBOOK ON FEATURE

---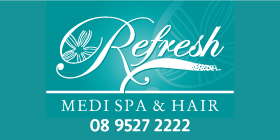 *Refresh Medi Spa & Hair - Hairdresser Rockingham - Rockingham, 6168

ROCKINGHAM AND SURROUNDS
HAIRDRESSERS AND BEAUTY SALON ROCKINGHAM, BALDIVIS HAIRDRESSERS, SECRET HARBOUR HAIRDRESSERS. BEAUTY SALON ROCKINGHAM BEACH HAIRDRESSER WARNBRO ACNE TREATMENT SHOALWATER ANTI WRINKLE REJUVENATION PORT KENNEDY DERMAL FILLERS SINGLETON SPIDER VEINS WAIKIKI IPL HAIR REMOVAL MEADOW SPRINGS COSMETIC TATTOOING MANDURAH
Refresh Medi Spa & Hair - Hairdresser Rockingham CLICK FOR FACEBOOK AND TO BOOK ONLINE ON FEATURE ~ HAIR SERVICES ~ HAIR EXTENSIONS ~ ACNE TREATMENTS ~ ANTI WRINKLE INJECTIONS ~ SKIN REJUVENATION ~ DERMAL FILLERS ~ SPIDER VEINS ~ IPL HAIR REMOVAL ~ COSMETIC TATTOOING
Ask about our Membership for discounts on hair, skin, cosmetic tattooing, products and injectable services.


---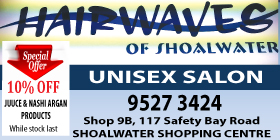 *Hairwaves of Shoalwater - Hairdressers Shoalwater Rockingham - Shoalwater, 6169

ROCKINGHAM - SHOALWATER ALL LOCAL AREAS
ROCKINGHAM HAIRDRESSING SALON SHOALWATER SHOPPING CENTRE, SAFETY BAY HAIRDRESSERS ROCKINGHAM. HAIRDRESSING SALON SAFETY BAY, SHOALWATER HAIRDRESSERS.
10% OFF ALL PRODUCTS WITH ANY PERM, COLOUR, TINT OR FOILS
Privately Owned Unisex Hair Salon Shoalwater. Fashion Cuts & Styles. Specialising in Foiling, Colouring and Perms.
Facial and Brow Waxing, Brow and Lash Tinting. Seniors Discount Monday to Friday. Gift Vouchers Available. Easy Parking available.
FIND US ON FACEBOOK AND CLICK TO VIEW GALLERY ON FEATURE

---
---
---