ROWSON O'CONNOR HAIR 💇FULLY SUSTAINABLE SALON♻️ SALON PAY AFTERPAY - ZIP PAY AVAILABLE | Hairdressers
- ROCKINGHAM HAIRDRESSERS SAFETY BAY HAIRDRESSERS BALDIVIS HAIRDRESSERS PORT KENNEDY SUSTAINABLE HAIRDRESSERS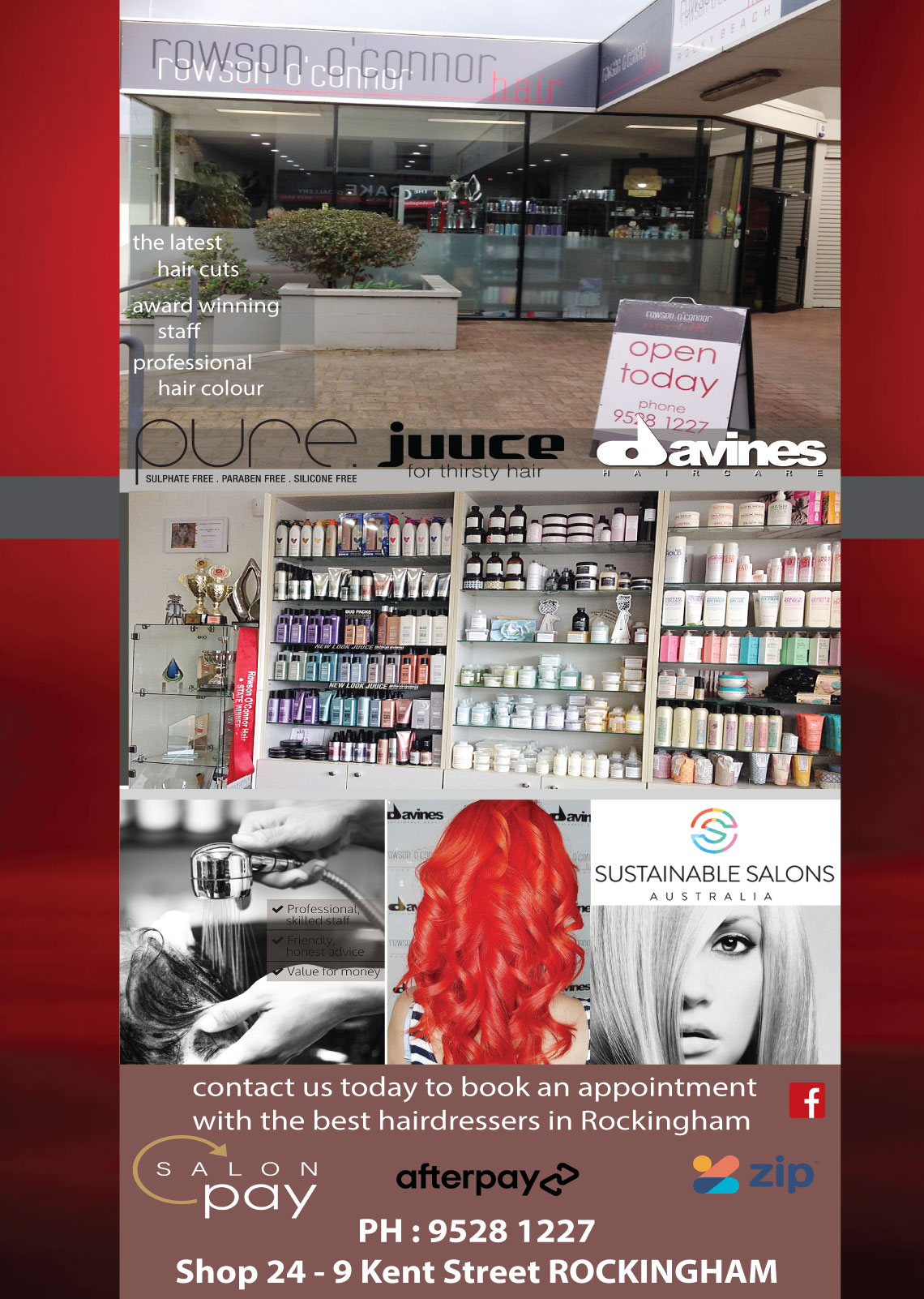 ---
---
Address
Shop 24 - 9 Kent Street Rockingham 6168
---
---
About Us
ROCKINGHAM HAIRDRESSING SALONS, ROCKINGHAM BEACH HAIR SALON, SUNRAY VILLAGE HAIRDRESSERS, SUSTAINABLE HAIR SALON IN ROCKINGHAM, ROCKINGHAM SUSTAINABLE HAIRDRESSING SALON BALDIVIS, HAIRDRESSING SALON SAFETY BAY HAIRDRESSING SALON WARNBRO, BALDIVIS HAIRDRESSING SALON PORT KENNEDY HAIRDRESSERS ROCKINGHAM. HAIR SALON AND STOCKIST ROCKINGHAM,
ROWSON O'CONNOR HAIR IS A FULLY SUSTAINABLE SALON ♻️.
Established for over 12 years. All proceeds from repurposing salon materials are donated to OzHarvest and KiwiHarvest to provide meals for those in need.
A SOCIAL ENTERPRISE THAT RESCUES UP TO 95% OF SALON RESOURCES FROM LANDFILL AND FINDS REPURPOSING SOLUTIONS THAT BENEFIT OUR PLANET, ALL WHILE SUPPORTING THE COMMUNITY!
CLICK FOR HAIRDRESSING SERVICES BUTTON ON FEATURE
---
Business Details
♻️Rowson use and stock Davines, Juuce, Pure products and more in their Award Winning Salon.
Established for over 12 years. Our hairdressing services include:
* Precision cuts we have the latest tools and equipment and, more importantly, skilled hairdressers. Our precision cutting techniques ensure that even the smallest detail makes a difference.
*Professional makeovers
if you have a big event looming, or a special occasion, consider a professional makeover to create the perfect day. We will ensure you have a day to remember with us, and we will leave you looking like a million dollars.
Intense colours.
By using quality products, we create colours that last, and are still shining with that salon gleam weeks later. Our intense range is brighter, more vibrant and stands out from the crowd.
*Hair and scalp treatments .
To achieve shine, you need a healthy scalp and hair. We offer a range of treatments to bring out the best in your hair. Sit back and enjoy the experience!
*Styling.
Dare to be different, or stick with tried and tested styles. Whatever you choose, our stylists will listen to you and create the style of your dreams.
*Hair extensions - can't wait for your hair to grow? Let our professional team give you realistic hair extensions that look just like your own hair!
CALL US FOR AN APPOINTMENT 9528 1227
SALON PAY AFTERPAY AND ZIP PAY OFFERED

---
Trading Hours
Mon: 9.00am - 5.30pm
Tue: 9.00am - 5.30pm
Wed: 9.00am - 8.30pm
Thu: 8.30am - 8.30pm
Fri: 8.30am - 5.30pm
Sat: 8.00am - 4.30pm
Sun: Closed & Pub Hols
---
Payments Accepted
Eftpos, Mastercard, Visa, AMEX, AFTERPAY