J J Le-Fevre & Co - Incorporating Rockingham Valuation Services and Mandurah Valuation Services - Property Valuers Western Australia | Property Valuers
- ROCKINGHAM VALUATIONS KARNUP PROPERTY VALUATIONS MANDURAH PROPERTY VALUATIONS SERPENTINE PROPERTY VALUATIONS PINJARRA PROPERTY VALUATIONS FREMANTLE PROPERTY VALUATIONS PERTH PROPERTY VALUATIONS CLAREMONT PROPERTY VALUATIONS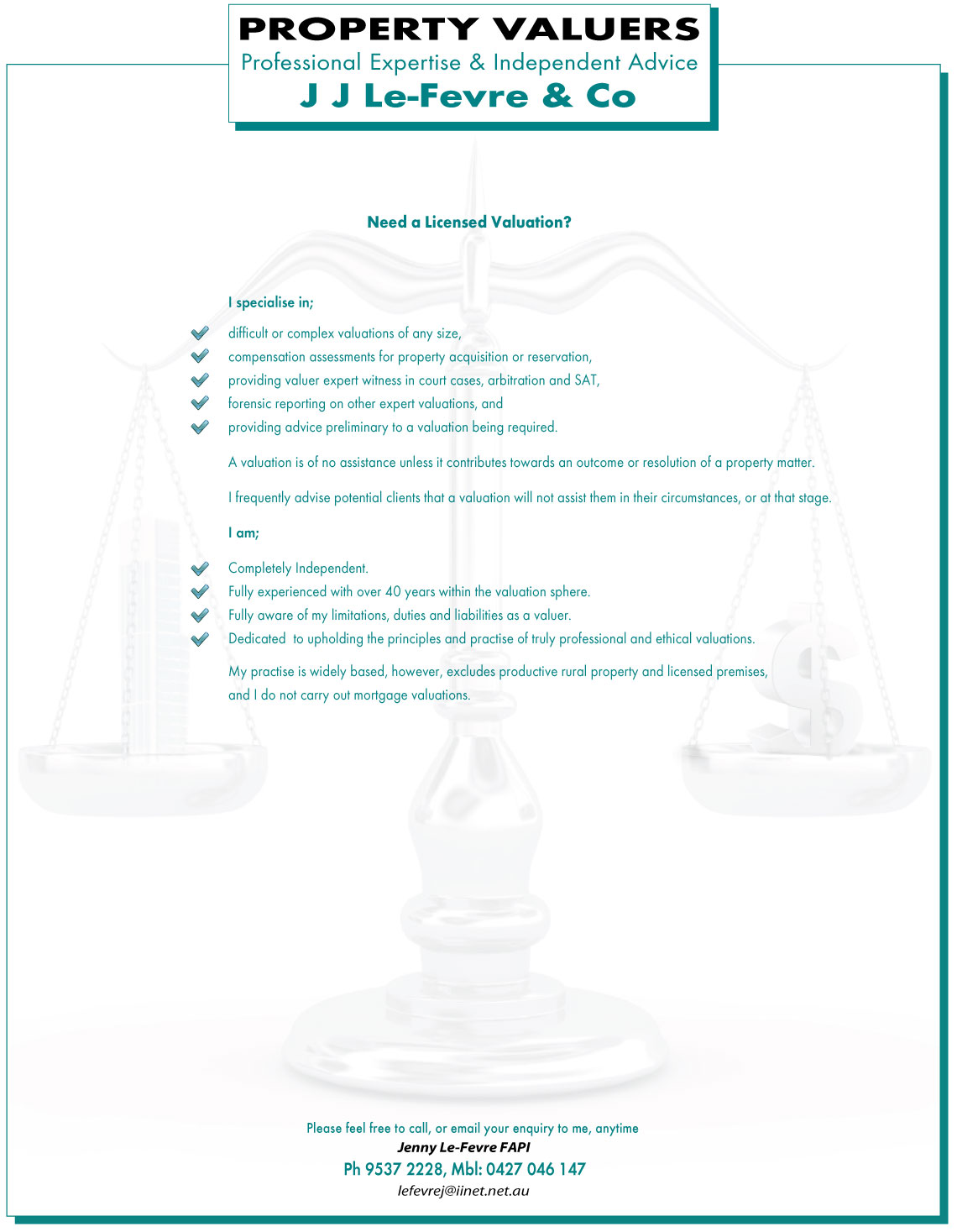 ---
J J Le-Fevre & Co - Incorporating Rockingham Valuation Services and Mandurah Valuation Services - Property Valuers Western Australia
---
Address
415 Amarillo Drive Karnup 6176
---
---
About Us
ROCKINGHAM PROPERTY VALUATION SERVICES MANDURAH PROPERTY VALUATION SERVICES KWINANA PROPERTY VALUATION SERVICES KARNUP PROPERTY VALUATION SERVICES SECRET HARBOUR PROPERTY VALUATION SERVICES PINJARRA PROPERTY VALUATION SERVICES PERTH PROPERTY VALUATION SERVICES
I am;
- Completely Independent.
- Fully experienced with over 40 years within the valuation sphere.
- Fully aware of my limitations, duties and liabilities as a valuer.
- Dedicated to upholding the principles and practice of truly professional and ethical valuations.
My practise is widely based, however, excludes productive rural property and licensed premises, and I do not carry out mortgage valuations .
Liability limited by a scheme approved under Professional Standards Legislation.
Please feel free to call, or email your enquiry to me, anytime.
---
Business Details
J J Le-Fevre & Co - Property Valuers - This is what you need to know:
A valuer must be licensed in WA, but that doesn't ensure knowledge, ability or competency in any given valuation scenario.
A fee estimate must be provided by a licensed valuer – and unfortunately, it's often the case that you don't get what you don't pay for!
A valuer's expertise lies in knowing where the property sits in the real estate equation and where and how to access the right information to be able to correctly assess and analyse the market. This takes time and the more complex the market the more time it can take. There are no shortcuts.
A valuer should assess a reasonable timeframe to do the work in order to assess the fee, if the fee is too low, it may dictate an unfavourable outcome for you due to a less than robust assessment framework.
An improperly prepared valuation may not affect you immediately, and you may not even realise it is not correct.
So, how do you tell which valuer you should engage?
Valuers may be independent, sole practitioners or part of a Real Estate firm, or within a large valuation practise. Ask what you will receive in your valuation – it should be a full report with all relevant details, market evidence detailed and all reasoning shown. A short form report will not reduce a fee by very much – the hard and time consuming work is in doing the homework before you get to the report.
I am often told, "I only need it for the Superannuation Fund reporting, or I only need it for future Capital Gains Tax calculations etc", the implication being a 'proper' valuation is not required!....and therefore the fee should be minimal!
Beware a fee quoted on that basis.
If a 'bank valuation' is your only experience, this is NOT a proper valuation, it is a restricted assessment.
A valuer undertaking a professional assignment must search the Title, inspect the premises fully and confirm the location and legal identity of the site, make measurements of any improvements, investigate and speak with the owner about services, damage and maintenance contracts, check zonings and investigate highest and best use potential with the Local Council, WAPC and many other Government departments, identify the market for the property and thoroughly investigate and research that market for the most up to date sales and rentals evidence.
Each property is unique – each valuation should be unique.
So, may I help you now you know what you are looking for?
I specialise in;
- difficult or complex valuations of any size,
- compensation assessments for property acquisition or reservation,
- providing valuer expert witness in court cases, arbitration and SAT,
- forensic reporting on other expert valuations, and
- providing advice preliminary to a valuation being required.
A valuation is of no assistance unless it contributes towards an outcome or resolution of a property matter.
I frequently advise potential clients that a valuation will not assist them in their circumstances, or at that stage.
Please feel free to call, or email your enquiry to me, anytime.

---
Trading Hours
Mon: 24hrs by appointment
Tue: 24hrs by appointment
Wed: 24hrs by appointment
Thu: 24hrs by appointment
Fri: 24hrs by appointment
Sat: 24hrs by appointment
Sun: 24hrs by appointmen
---