Rockypest Pest Management - Termite Control Rockingham Mandurah VIEW VIDEO AND PRICES | Termite Control
- ROCKINGHAM -TERMITE CONTROL MANDURAH TERMITE CONTROL KWINANA TERMITE CONTROL BALDIVIS TERMITE CONTROL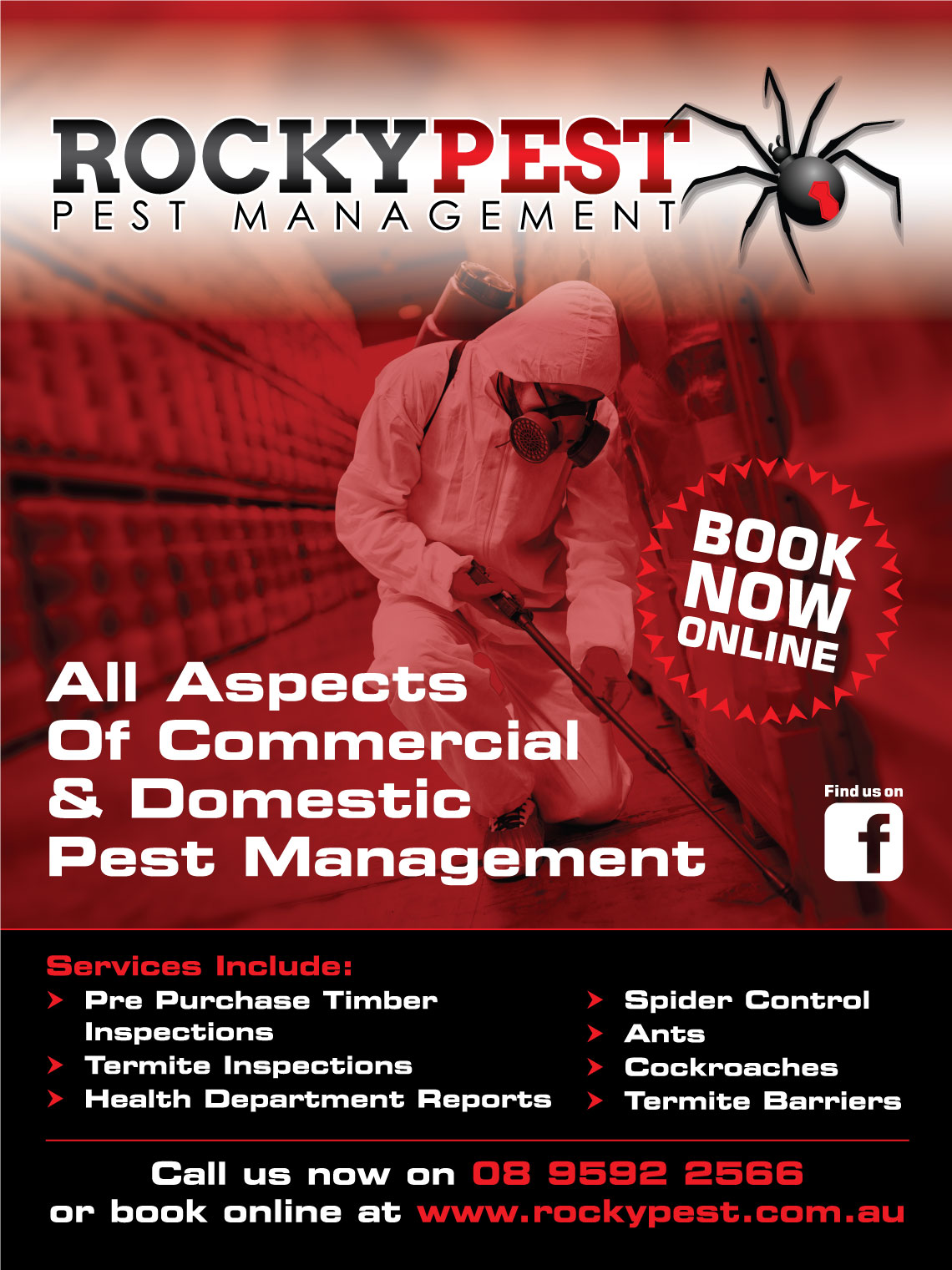 ---
---
Address
4 Cort Way Rockingham 6168
---
---
About Us
ROCKINGHAM PEST TERMITE CONTROL BLDOVIS FLEA CONTROL. PRE-PURCHASE TIMBER INSPECTION BALDIVIS, ROCKINGHAM TERMITE CONTROL GOLDEN BAY TERMITE CONTROL ROCKINGHAM, PRE PURCHASE TERMITE BUILDING INSPECTION BALDIVIS TERMITE INSPECTIONS BALDIVIS PEST INSPECTIONS, KARNUP PROPERTY PEST CONTROL, FLEA CONTROL ROCKINGHAM TERMITE CONTROL KWINANA TERMITE CONTROL MANDURAH TERMITE CONTROL PEEL REGION TERMITE CONTROL INSECT AND PEST CONTROL MANDURAH TERMITE CONTROL COCKBURN PEST CONTROL COCKBURN TERMITE INSPECTIONS COCKBURN TERMITE REPORTS ROCKINGHAM TERMITE REPORTS ROCKINGHAM AND SURROUNDING AREAS.
Rockingham Pest Control was established in April of 2002 to service the Rockingham and surrounding areas and has proven to be a well respected and professional company.
Rockypest Pest Management provides safe and effective treatments for a variety of common and not so common pests for residential, commercial and Industrial Properties. Our Service is professional, prompt, reliable and friendly - letting you get on with life in a safe and pest reduced environment.
CLICK FOR FACEBOOK ON FEATURE & ONLINE BOOKING SERVICE - ORDER YOUR TIMBER PEST INSPECTION ROCKINGHAM, KWINANA, MANDURAH, PEEL REGION...
---
Business Details
Pest management is serious business, and not something to be taken lightly. Australian pests do untold amounts of damage each and every year, and can make life miserable for home and business owners who have to deal with their impact on property, health, and lifestyle.
At Rockypest Rockingham, we take the responsibility of protecting your home and businesses seriously and will work with you to craft the perfect solution to manage your premises of any infestation you might encounter.
To find out more about how the best pest management company in the Perth area can help give you the peace of mind you deserve, contact us today 08 9592 2566.
Some of our control services include: Rodents Rockingham, Spiders Rockingham, Termites Rockingham, Ants Rockingham, Bees and Wasps Rockingham, Cockroaches Rockingham, Weeds Rockingham - in fact we will try and solve any pest problem that you may have.
WE OFFER AN ONLINE BOOKING SERVICE OR CALL US ON 0407 476 713.

---
Trading Hours
Mon: By appointment
Tue: By appointment
Wed: By appointment
Thu: By appointment
Fri: By appointment
Sat: By appointment
Sun: Closed
---
Payments Accepted
Cash, Credit Cards, EFTPOS