Termite Control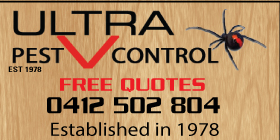 Ultra V Pest Control - OVER 36 YEARS EXPERIENCE - Termite Control COMPETITIVE RATES INTEREST FREE PAYMENTS AVAILABLE - Baldivis, 6171

BALDIVIS TERMITE CONTROL ROCKINGHAM TERMITE CONTROL KARNUP TERMITE CONTROL KWINANA TERMITE CONTROL MANDURAH TERMITE CONTROL SECRET HARBOUR TERMITE CONTROL
ROCKINGHAM TERMITE CONTROL BALDIVIS TERMITE PEST CONTROL ROCKINGHAM PEST CONTROL MANDURAH PEST CONTROL MANDURAH PRE INSPECTION PEST CONTROL MANDURAH TERMITE PEST CONTROL ANT PEST CONTROL KWINANA ANT PEST CONTROL ROCKINGHAM ANT PEST CONTROL MANDURAH ANT PEST CONTROL SAFETY BAY, ROCKINGHAM PEST CONTROL BALDIVIS PEST CONTROL ROCKINGHAM.
PEST CONTROL MANDURAH, ROCKINGHAM, KWINANA, PEEL REGION.
ULTRA V PEST CONTROL WITH OVER 36 YEARS EXPERIENCE, FAMILY OWNED & OPERATED OFFER: RESIDENTIAL PEST CONTROL * TERMITE INSPECTIONS * PRE-PURCHASE INSPECTIONS * PROPERTY PEST REPORTS
Licensed by the Public Health Department Reg No 199 / ABN 16 293 068 227
CALL MURRAY FOR A FREE QUOTE...
CLICK FOR FREE QUOTE OR TO CONTACT ON FEATURE

---
Rockypest Pest Management - Termite Control Rockingham Mandurah VIEW VIDEO AND PRICES
- Rockingham, 6168
ROCKINGHAM -TERMITE CONTROL MANDURAH TERMITE CONTROL KWINANA TERMITE CONTROL BALDIVIS TERMITE CONTROL

ROCKINGHAM PEST TERMITE CONTROL BLDOVIS FLEA CONTROL. PRE-PURCHASE TIMBER INSPECTION BALDIVIS, ROCKINGHAM TERMITE CONTROL GOLDEN BAY TERMITE CONTROL ROCKINGHAM, PRE PURCHASE TERMITE BUILDING INSPECTION BALDIVIS TERMITE INSPECTIONS BALDIVIS PEST INSPECTIONS, KARNUP PROPERTY PEST CONTROL, FLEA CONTROL ROCKINGHAM TERMITE CONTROL KWINANA TERMITE CONTROL MANDURAH TERMITE CONTROL PEEL REGION TERMITE CONTROL INSECT AND PEST CONTROL MANDURAH TERMITE CONTROL COCKBURN PEST CONTROL COCKBURN TERMITE INSPECTIONS COCKBURN TERMITE REPORTS ROCKINGHAM TERMITE REPORTS ROCKINGHAM AND SURROUNDING AREAS.
Rockingham Pest Control was established in April of 2002 to service the Rockingham and surrounding areas and has proven to be a well respected and professional company.
Rockypest Pest Management provides safe and effective treatments for a variety of common and not so common pests for residential, commercial and Industrial Properties. Our Service is professional, prompt, reliable and friendly - letting you get on with life in a safe and pest reduced environment.
CLICK FOR FACEBOOK ON FEATURE & ONLINE BOOKING SERVICE - ORDER YOUR TIMBER PEST INSPECTION ROCKINGHAM, KWINANA, MANDURAH, PEEL REGION...
---
---
---