Swimming Pool Fills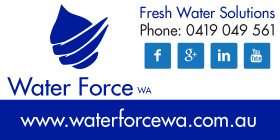 WATER FORCE WA - SWIMMING POOL FILLS ALL AREAS
- Serpentine, 6125
SERPENTINE SWIMMING POOL FILLS, ROCKINGHAM SWIMMING POOL FILLS, MANDURAH SWIMMING PUMP HIRE & POOL FILLS, PINJARRA WATER PUMP AND TANK HIRE

FORCE WA for FRESH WATER SOLUTIONS.
SERVICE ALL AREAS
No job is too big or too small for us. Whatever your bulk water haulage needs, we can handle it. We have the capacity to deliver to all types of clients whether it be potable for residential, construction, commercial, industrial or public use.
Water Supply for Homes - Tank & Pump Hire - Swimming Pool Fills - Potable Water - Water Binding & Dust Control - Water Cartage - Fire & Incident Water Management.
SERPENTINE SWIMMING POOL FILLS, ROCKINGHAM SWIMMING POOL RE-FILLS, MANDURAH WATER SUPPLY RESIDENTIAL AND COMMERCIAL, OAKFORD SWIMMING POOL FILLS WANDI SWIMMING POOL FILLS MANDURAH SWIMMING POOL FILLS PINJARRA SWIMMING POOL FILLS LEDA SWIMMING POOL FILLS YUNDERUP SWIMMING POOL FILLS KARNUP SWIMMING POOL FILLSx
---
---
---