Panel Beaters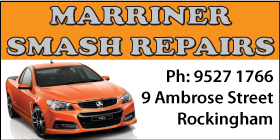 MARRINER SMASH REPAIRS - PROFESSIONAL RELIABLE PANEL BEATERS - INSURANCE WORK WELCOME
- Rockingham, 6168
ROCKINGHAM PANEL BEATERS BALDIVIS PANEL BEATERS MANDURAH PANEL BEATERS KWINANA PANEL BEATERS NAVAL BASE

ROCKINGHAM PANEL BEATER PORT KENNEDY, BALDIVIS PANEL BEATERS KWINANA ALL AREAS SMASH REPAIRS PANEL BEATER ROCKINGHAM SMASH REPAIRS, MOTORBIKE RESTORATION ROCKINGHAM AMERICAN CLASSIC CAR RESTORATION, ROCKINGHAM HORSE TRAILER RESTORATION ROCKINGHAM TRUCK RESPRAYS, SANDBLASTING RIMS ROCKINGHAM CHASSIS SANDBLASTING, SANDBLASTING STEEL BUMPER ROCKINGHAM PANEL SANDBLASTING , ROCKINGHAM PANEL BEATER NAVAL BASE PANEL BEATERS PORT KENNEDY, BALDIVIS PANEL BEATERS KWINANA ALL AREAS SMASH REPAIRS
MARRINER SMASH REPAIRS ARE QUALITY REPAIRERS FOR ALL INSURANCE COMPANIES.
We are a family owned and operated business committed to excellent customer service. We understand your problems and work to rectify it as quickly as possible.
NEED SOMETHING SANDBLASTED CALL US!
Restoration, Sandblating, Resprays.
Rockingham Towing Service available. Courtesy Cars provided.
ALL WORK GUARANTEED.
CLICK FOR FACEBOOK ON FEATURE
---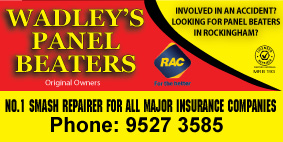 WADLEYS PANEL BEATERS - ORIGINAL OWNERS - NO.1 SMASH REPAIRER - RECOMMENDED REPAIRER FOR ALL MAJOR INSURANCE COMPANIES - Rockingham, WA 6168

ROCKINGHAM PANEL BEATERS KWINANA PANEL BEATERS BALDIVIS PANEL BEATERS KARNUP PANEL BEATERS SINGLETON PANEL BEATERS NAVAL BASE PANEL BEATERS WELLARD PANEL BEATERS
Smash Repairs Rockingham.
Panel Beaters Rockingham. 4WD SMASH REPAIR SPECIALISTS ROCKINGHAM 4WD SMASH REPAIR SPECIALISTS SERPENTINE 4WD SMASH REPAIR SPECIALISTS JARRAHDALE 4WD SMASH REPAIR SPECIALISTS MANDURAH 4WD SMASH REPAIR SPECIALISTS MEADOW SPRINGS 4x4 Specialist Panel Beaters Rockingham ROCKINGHAM Panel Beaters Rockingham, 4x4 Panel Beaters, Rockingham Smash Repairs Rockingham, 4x4 Panel Beaters My car needs repairing Kwinana Smash Repairs Naval Base Smash Repairs Wellard Panel Beaters Baldivis repairs for my car Singleton Panel Beaters Golden Bay Smash Repairs you can trust Rockingham Smash Repair Specialists for 4x4s Insurance work Baldivis Prestige Vehicles restored to new Rockingham commercial vehicles our specialty. accredited insurance repairer.
Wadleys Panel Beaters is a Family Business Established in 1973 and still run by the Original Owners
Wadleys Panel Beaters are known for quality workmanship and attention to detail. Keeping up to date with training and equipment means we continually provide the best possible workmanship and service to our customers.
All Work Guaranteed.
* Licensed Repairer MRB: 193
Recommended Repairer for all major Insurance Companies

---
---
---