HVAC Construction and Mechanical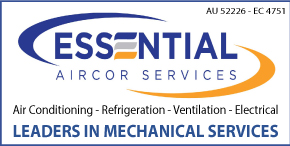 ESSENTIAL AIRCOR SERVICES - LEADERS IN MECHANICAL SERVICES HVAC AND REFRIGERATION - COMMERCIAL CLIENTS 24/7 EMERGENCY SERVICE AVAILABLE
- Mandurah, 6210
MANDURAH ELECTRICIANS ROCKINGHAM ELECTRICIANS ELECTRICAL CONTRACTORS PEEL REGION DOMESTIC ELECTRICIAN PINJARRA ELECTRICIANS KWINANA ++

AFFORDABLE AIR CONDITIONING SERVICES HVAC AND REFRIGERATION MANDURAH HVAC AND REFRIGERATION MECHANICAL SERVICES MANDURAH AIR CONDITIONING SERVICE INSTALLS PEEL AIR CONDITIONING SERVICES SPECIAL ON AIR CONDITIONING PEEL REGION AIR CON SALES SPECIALISTS ROCKINGHAM SPECIAL ON AIR CONDITIONING HVAC AND REFRIGERATION MECHANICAL SERVICES PORT KENNEDY HVAC AND REFRIGERATION MECHANICAL SERVICES MALIBU HVAC AND REFRIGERATION MECHANICAL SERVICES COMMERCIAL HVAC AND REFRIGERATION MECHANICAL SERVICES ROCKINGHAM SPECIAL ON AIR CONDITIONING MANDURAH AIR CONDITIONING SERVICE REPAIRS SALE ON AIR CONDITIONIGN MANDURAH AIR CONDITIONING NEW INSTALLATIONS MANDURAH AIR CONDITIONING SPECIALISTS KWINANA AIR CONDITIONING SERVICE SALE ON BALDIVIS AIR CONDITIONING NAVAL BASE AIR CONDITIONING PORT KENNEDY AIR CONDITIONING SERVICES GOLDEN BAY AIR CONDITIONING GREENFIELDS AIR CONDITIONING SERVICE AND REPAIRS COODANUP AIR CONDITIONING FALCON AIR CONDITIONING MELROS AIR CONDITIONING WAROONA AIR CONDITIONING WARNBRO AIR CONDITIONING KARNUP AIR CONDITIONING LEDA AIR CONDITIONING WAIKIKI AIR CONDITIONING BOUVARD AIR CONDITIONING WAIKIKI HVAC AND REFRIGERATION MECHANICAL SERVICES HVAC AND REFRIGERATION MECHANICAL SERVICES PINJARRA HVAC AND REFRIGERATION MECHANICAL SERVICES WAIKIKI VILLAGE HVAC AND REFRIGERATION MECHANICAL SERVICES KWINANA HVAC AND REFRIGERATION MECHANICAL SERVICES AIR CONDITIONING PINJARRA Refrigeration,MANDURAH commercial cool and freezer rooms repairs and services MANDURAH, ice machines repairs ROCKINGHAM commercial cool and freezer rooms repairs and services MANDURAH REFRIGERATION PRESTON BEACH commercial cool and freezer rooms repairs and services ROCKINGHAM FREEZERS KWINANA COOL ROOMS BALDIVIS FRIDGES NAVAL BASE REFRIGERATION SINGLETON REFRIGERATION GOLDEN BAY REFRIGERATION GREENFIELDS COODANUP REFRIGERATION FALCON REFRIGERATION MELROS REFRIGERATION WAROONA WARNBRO REFRIGERATION KARNUP FRIDGES LEDA COOL ROOMS WAIKIKI REFRIGERATION WAIKIKI ICE MACHINES SERVICED PINJARRA ICE MACHINES PINJARRA
With Essential Aircor Services you also have access to our dedicated electrical division. This allows us to deliver a complete level of service to our clients across the mechanical and electrical services industries.
Our fully licensed electrical team can assist with all your commercial, industrial and residential electrical needs including, but not limited to:-
Installation of electrical circuits for new air conditioners
Electrical upgrades
Supply and installation of lighting, data points and sockets
BMS controls
Supply and installation of safety switches and smoke alarms
Process controls
Refrigeration, air conditioning and ventilation controls
Test and tagging
Essential Refrigeration Services is able to deliver a quality service, within budget, on time, every time.
---
---
---