Dry Cleaners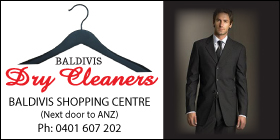 Baldivis Dry Cleaners - Dry Cleaner Baldivis - All Clothing Garments, Business Suits & Suits. Dry Cleaning Wedding Dresses, Curtains and Bedding. - Baldivis , 6171

BALDIVIS DRY CLEANERS ROCKINGHAM DRY CLEANERS KWINANA DRY CLEANERS
BALDIVIS DRY CLEANERS AND LAUNDERERS ROCKINGHAM DRY CLEANERS AND LAUNDERERS. MANDURAH DRY CLEANERS AND LAUNDERERS PINJARRA DRY CLEANERS AND LAUNDERERS. SECRET HARBOUR DRY CLEANERS AND LAUNDERERS BALDIVIS Business Suits & Suits. BALDIVIS Dry Cleaning Wedding Dresses, BALDIVIS Curtains and Bedding. Drycleaning Uniforms - Safety Clothing - Overalls - Seat Covers - Costumes.
Launderers Baldivis. BALDIVIS Sheets, Towels, BALDIVIS All Sports Clothing
Baldivis Dry Cleaners is a locally owned and operated business which prides itself on excellent service, handling your drycleaning expertly and efficiently.
We also handle Work Clobba, Washing and Folding
Ironing Service - Corporate Accounts Welcome.
Alterations and Mending Baldivis. Locally owned and operated.
CLICK TO CONTACT ON FEATURE

---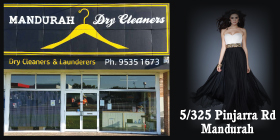 Mandurah Dry Cleaners & Launderers - Dry Cleaner Mandurah
- Mandurah, 6210
MANDURAH DRY CLEANERS BALDIVIS DRY CLEANERS ROCKINGHAM DRY CLEANERS

MANDURAH DRY CLEANERS AND LAUNDERERS MANDURAH. Dry Cleaners Mandurah LAUNDRY MANDURAH Business Suits & Suits. MANDURAH Dry Cleaning MANDURAH Wedding Dresses, MANDURAH Curtains and Bedding MANDURAH Drycleaning Safety Clothing -MANDURAH Dry Cleaning Overalls - MANDURAH Dry Cleaning Seat Covers - MANDURAH Dry Cleaning Costumes.
MANDURAH Dry Cleaners is a locally owned and operated business which prides itself on excellent service, handling your drycleaning expertly and efficiently.
We also handle Work Clobba, Washing and Folding
Ironing Service - Corporate Accounts
Welcome.
Alterations and Mending Baldivis. Locally owned and operated.
CLICK TO CONTACT ON FEATURE
---
---
---