Business Services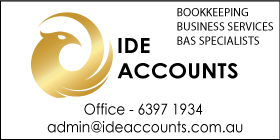 *IDE ACCOUNTS - Bookkeeping Rockingham Kwinana Mandurah - Rockingham, 6168

ROCKINGHAM BOOKKEEPERS BALDIVIS BOOKKEEPING AND BAS SPECIALISTS KWINANA MANDURAH ALL SURROUNDING AREAS
BUSINESS SERVICE ROCKINGHAM, BUSINESS SERVICE AND BOOKKEEPING KWINANA, ROCKINGHAM, BOOKKEEPING BUSINESS SERVICES KWINANA, BUSINESS SERVICES AND BOOKKEEPING BALDIVIS, BAS AGENTS ROCKINGHAM, KWINANA BAS AGENTS AND BOOKKEEPERS. BALDIVIS BAS AGENTS, BUSINESS SERVICES AND BOOKKEEPING SERVICES ROCKINGHAM KWINANA MANDURAH. MEDINA BOOKKEEPERS,
Ide Accounts is proudly committed to being up-to-date with the latest technological advancements in the accounting industry. This allows the business to create excellent efficiency, streamlining even the most complicated processes. The advanced knowledge also provides increased data accuracy, accessibility and security. Australian Tax Practitioners Board - Registered BAS Agent (25402193) MYOB Certified Consultant XERO Certified Partner Quickbooks ProAdvisor Member of Australian Bookkeepers Association Member of Australian Bookkeeping Network Pure Bookkeeping Accredited Licensee .
BOOK FREE CONSULTATION ONLINE - DOWNLOAD FREE COPY (UNDERSTANDING YOUR FINANCIAL REPORT) - SEE FULL BUSINESS PAGE


---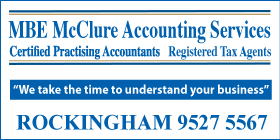 *MBE McClure Accounting Services - Business Services Rockingham - Rockingham, 6168

ROCKINGHAM MANDURAH KWINANA
ROCKINGHAM BUSINESS SERVICES MANDURAH, KWINANA, PEEL REGION
Rockingham Accountants
Accountants Rockingham
Taxation Rockingham
We take the time to understand your business...
BUSINESS ACCOUNTANTS ROCKINGHAM
providing prompt, efficient, professional services for all your Accounting needs. Business Set-ups Rockingham Accounts. Business Planning and Advice. Individuals & Partnerships, Trust & Companies, Self Managed Super Funds, GST and PAYG Compliance.
ROCKINGHAM TAXATION MANDURAH - ROCKINGHAM ACCOUNTING MANDURAH.
CLICK FOR SERVICES & USEFUL LINKS ON FEATURE

---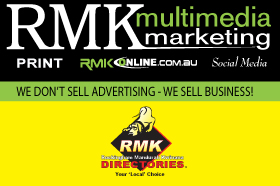 *RMK Multimedia Marketing - Business Marketing Rockingham - Rockingham, 6168

NAVAL BASE TO DWELLINGUP
ADVERTISE YOUR BUSINESS IN ROCKINGHAM, MANDURAH, PEEL, KWINANA BALDIVIS, PORT KENNEDY AND ALL LOCAL REGION. Marketing your business to your local region. Rockingham, Advertising in PRINT, ONLINE & SOCIAL MEDIA
Annual Printed Business Directory - offering 12 months of advertising and marketing for your business. Easy - Online Features, Printed Advertising, Social Media Marketing.

---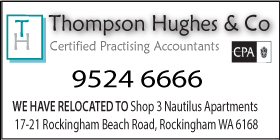 *Thompson Hughes & Co - ROCKINGHAM BUSINESS SERVICES AND ACCOUNTANTS - RELOCATED TO ROCKINGHAM BEACH RD, ROCKINGHAM - Rockingham, 6172

ROCKINGHAM BUSINESS SERVICES BALDIVIS BUSINESS SERVICES KWINANA BUSINESS SERVICES PORT KENNEDY BUSINESS SERVICES
SMALL BUSINESS ACCOUNTANTS ROCKINGHAM, BUSINESS ACCOUNTANTS BALDIVIS, PORT KENNEDY BUSINESS ACCOUNTANTS AND TAX SPECIALISTS. BUSINESS SERVICES ROCKINGHAM. ROCKINGHAM TAXATION ACCOUNTANTS PORT KENNEDY. ACCOUNTANTS ROCKINGHAM, BALDIVIS AUDITING ROCKINGHAM BALDIVIS ACCOUNTANTS,TAX ACCOUNTANTS,BOOKKEEPING ROCKINGHAM. AUDITING MANDURAH ACCOUNTING TAXATION MANDURAH TAXATION BUSINESS SERVICES KWINANA, ACCOUNTANT BOOKKEEPING PEEL REGION ROCKINGHAM ACCOUNTANTS ACCOUNTANTS PORT KENNEDY TAXATION ACCOUNTANTS ROCKINGHAM
ROCKINGHAM AUDITING PORT KENNEDY BUSINESS DEVELOPMENT.
We specialise in the needs of our local small businesses and individuals in the Rockingham, Kwinana, Port Kennedy and Mandurah area covering all areas of taxation, business development and auditing.
We provide services in the following: Auditing - Business Services Mandurah to Kwinana
Baldivis Business Services Warnbro Business Services Singleton Business Services Shoalwater
CLICK FOR SERVICES & TAXATION REQUIREMENTS ON FEATURE

---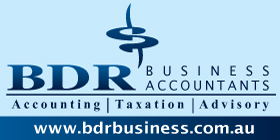 *BDR Business Accountants Business Services Mandurah Rockingham - Mandurah, 6210

MANDURAH
BUSINESS SERVICES MANDURAH. BUSINESS ACCOUNTANTS MANDURAH, ROCKINGHAM BUSINESS ACCOUNTANTS. ACCOUNTING MANDURAH
BUSINESS ACCOUNTANTS MANDURAH, ROCKINGHAM MANDURAH BUSINESS ACCOUNTANTS, BALDIVIS BUSINESS ACCOUNTANTS. LOCAL MANDURAH ACCOUNTANTS, TAX RETURNS MANDURAH, TAX RETURNS ROCKINGHAM, BALDIVIS TAX RETURNS AND BUSINESS ACCOUNTANTS. TAXATION ACCOUNTANTS MANDURAH, ROCKINGHAM TAXATION ACCOUNTANTS, MANDURAH ACCOUNTANTS MANDURAH BUSINESS ACCOUNTANTS ROCKINGHAM.
Running a business can be difficult, so you need experienced advisors who can help overcome the many challenges. BDR Business Accountants – helping local business since 1969
CLICK FOR FACEBOOK & SERVICES ON FEATURE

---
---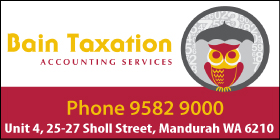 Bain Taxation Accounting Services - Business Services Mandurah
- Mandurah, 6210
MANDURAH - PEEL REGION
Mandurah Accountants, Registered Tax Accountant Mandurah
Accounting made easy - Bain Taxation is a full service accounting firm which is located in Mandurah, Western Australia. They provide tax, bookkeeping and accounting services for individuals, partnerships, sole traders, companies and trusts. They have an understanding of the needs of tradesmen and FIFO workers as well as people with rental properties and share investments.
Preparation and lodgement of Tax Returns, Preparation and lodgement of BAS & IAS, Preparation of Financial Statements, ABN, GST & TFN Applications, Bookkeeping, ATO Liaison, Setups - Companies and Trusts.
ACCOUNTANT MANDURAH - TAX MANDURAH - BOOKKEEPING MANDURAH - BUSINESS SERVICES MANDURAH.
SEE ACCOUNTANTS FOR FULL FEATURE
---
---