Beauty Therapy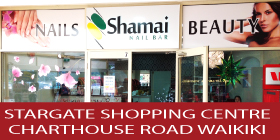 SHAMAI NAIL BAR 💁💅 BEAUTY SALON ONLINE PRICE LIST AVAILABLE - WE ARE OPEN BOOKINGS WELCOME OR WALK-INS
- Waikiki , 6169
ROCKINGHAM BEAUTY SALON WAIKIKI BEAUTY SALONS WARNBRO BEAUTY SALONS BALDIVIS BEAUTY SALON

ROCKINGHAM BEAUTY AND NAIL SALON WARNBRO BEAUTY AND NAIL SALON, WAXING BEAUTY WAXING AVAILABLE SAFETY BAY NAIL SALONS, BEAUTY THERAPISTS ROCKINGHAM, WAIKIKI BEAUTY SALON ROCKINGHAM. BEAUTY THERAPY WAIKIKI ROCKINGHAM.BEAUTY SALONS SAFETY BAY, BEAUTY AND NAIL SALON PORT KENNEDY, BALDIVIS BEAUTY SALON AND NAIL SALON, WAIKIKI NAIL SALONS
Shamai Nail Bar is a family owned and run salon located inside the Stargate Shopping Centre, Charthouse Road Waikiki.
Jenny and her staff are highly trained and experienced nail technicians specialising in Acrylic Nails, Shellac Nails, Nail Art and SNS Nails as well as Spa Pedicures, Waxing and Beauty Treatments,
APPOINTMENTS FROM MONDAY TO SATURDAY. Phone to book on 0403 898 707.
CLICK FOR FACEBOOK ON FEATURE
---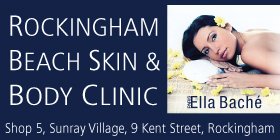 ROCKINGHAM BEACH SKIN & BODY CLINIC ❤️ ELLA BACHE SALON - MONTHLY SPECIALS BOOKINGS RECOMMENDED
- Rockingham, WA 6168
ROCKINGHAM ELLA BACHE BEAUTY SALON BALDIVIS ELLA BACHE BEAUTY SALON PORT KENNEDY BEAUTY SALONS ROCKINGHAM BEACH ELLA BACHE BEAUTY SALON

FREE PRODUCTS SPECIAL FACIAL PRODUCTS SPECIALS BEAUTY THERAPY SPECIALS FREE ELLA BACHE PRODUCTS ROCKINGHAM BONUS ELLA BACHE PRODUCTS ROCKINGHAM Rockingham Ella Bache Beauty Salon Rockingham Special Beauty Salon Baldivis Ella Bache Beauty Therapy Port Kennedy Ella Bache Beauty Salon, FEATHER TOUCHY BROWS ROCKINGHAM TOUCH BROW SPECIALIST ROCKINGHAM Warnbro Ella Bache Beauty Therapy. Rockingham, Shellac Nails Rockingham, Gel Nails Rockingham, Ella Bache Specialised Treatments Rockingham, Shellac Permanent Nail Polish Rockingham, Biosculpture Gel Nails, evo2 Nails Rockingham, Manicures Rockingham, Waxing Rockingham, Massage Rockingham, Spray Tanning Rockingham, Lash Tinting Rockingham, Brow Tinting Rockingham, Lash Lift Rockingham, Feather Touch Brows Rockingham, Beauty Treatments Baldivis Ella Bache Treatments Warnbro Beauty Treatments Waikiki Rockingham Ella Bache Specialist.
ROCKINGHAM BEACH SKIN & BODY CLINIC - ELLA BACHE SALON - BOOKINGS RECOMMENDED
Rockingham Beach Skin and Body Clinic is a family owned and run salon offering personalised service in a pleasant and relaxing atmosphere.
Situated in Rockingham Beach, the clinic is a specialist salon for Ella Bache products and all beauty treatments.
Highly trained and experienced staff will answer your skin care queries and advise the best treatment for your skin and body.
The Clinic offers the full range of skin, nail and body treatments.
---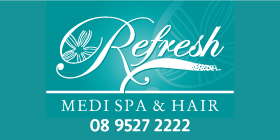 REFRESH MEDI SPA & HAIR ❤️ COMPETITIVE RATES EXCELLENT RESULTS
- Rockingham, 6168
ROCKINGHAM BEAUTY THERAPISTS ROCKINGHAM BEAUTY SALON PORT KENNEDY BEAUTY SALON WARNBRO BEAUTY SALON KWINANA BEAUTY SALON BALDIVIS BEAUTY SALON

BEAUTY THERAPY ROCKINGHAM, A REPUTABLE BEAUTICIAN FOR SPECIAL FACIALS ROCKINGHAM BEACH HAIRDRESSER AND BEAUTY THERAPY SALON ROCKINGHAM ANTI WRINKLE TREATMENTS BALDIVIS, SPIDER VEINS REMOVED WARNBRO DERMAL FILLERS AND ANTI WRINKLE TREATMENTS, ROCKINGHAM FULL BEAUTY THERAPY SALON. WARNBRO ACNE TREATMENT SHOALWATER ANTI WRINKLE REJUVENATION PORT KENNEDY DERMAL FILLERS SINGLETON SPIDER VEINS WAIKIKI IPL HAIR REMOVAL MEADOW SPRINGS COSMETIC TATTOOING MANDURAH
Refresh Medi Spa & Hair - Hairdresser Rockingham offer the full range of hair and cosmetic beauty services by qualified therapists. We are owner operated and stock a new range of Australian based skin products endorsed by Rebecca Judd.
Ask about our Membership for discounts on hair, skin, cosmetic tattooing, products and injectable services.
SEE OUR SERVICES ON FULL FEATURE PAGE
---
---
---