Auto Electrics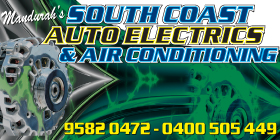 *Mandurah's South Coast Auto Electrics - Auto Electrics Mandurah Peel BREAKDOWN SERVICE AVAILABLE - Mandurah, WA 6210

MANDURAH AUTO ELECTRICS, GREENFIELDS AUTO ELECTRICS, ERSKINE AUTO ELECTRICS, FALCON AUTO ELECTRICS,
AUTO ELECTRICS MANDURAH. AUTO ELECTRICS GREENFIELDS, MEADOW SPRINGS AUTO ELECTRICS, MANDURAH CAR REPAIRS AND AUTO ELECTRICS. PINJARRA BREAK DOWN SERVICE AUTO ELECTRICS AND CAR REPAIRS.
AUTO AIR CONDITIONING MANDURAH.
PEEL AUTO ELECTRICS SPECIALISTS, 4WD AUTO ELECTRICS MANDURAH, FALCON DAWESVILLE AUTO ELECTRIC MECHANICS, AUTO ELECTRICS MECHANICS ERSKINETORQIT DIESEL PERFORMANCE PACKAGES MANDURAH
Auto Electricians in Mandurah region. Auto Electrical Specialists, Marine and Earthmoving Equipment, Mandurah Caravan Brake Systems, Parrot Handsfree Certified Installer, Dual Battery Systems, GME 2 Way and Accessories In Mandurah, Alarms and Immobilisers installed and repaired Mandurah Region, Starter Motors and Alternators. Full Range of Batteries Mandurah, Peel Region. BREAKDOWN SERVICE AVAILABLE MANDURAH, ROCKINGHAM, PEEL REGION. Licensed Repairer MRB4005 Arc 18204.
Mandurah-based South Coast Auto Electrics is Western Australia's leading auto electric and air conditioning specialist.
With expert technicians on site to repair, service and maintain your vehicle and a fully equipped workshop using the latest diagnostic tools and reliable mobile service units, South Coast Auto Electrics guarantees work of the highest standards to keep your vehicle on the road.
We deliver prompt and friendly service and will see to all of your auto electrical and air conditioning needs.
---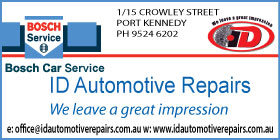 *ID Automotive Repairs - BOSCH CAR SERVICE CENTRE - WE LEAVE A GREAT IMPRESSION - Port Kennedy, WA 6172

PORT KENNEDY AUTO ELECTRICS ROCKINGHAM AUTO ELECTRICS MANDURAH AUTO ELECTRICS PINJARRA AUTO ELECTRICS BALDIVIS
AUTO ELECTRICS ROCKINGHAM AUTO ELECTRICS MANDURAH AUTO ELECTRICS KWINANA AUTO ELECTRICS PORT KENNEDY AUTO ELECTRICS SECRET HARBOUR CAR REPAIRS ROCKINGHAM CAR REPAIRS, MANDURAH CAR REPAIRS KWINANA CAR REPAIRS PORT KENNEDY BOSCH CAR SERVICE ROCKINGHAM: Log Book Vehicle Servicing Port Kennedy Log Book Vehicle Servicing Rockingham Log Book Vehicle Servicing Kwinana Log Book Vehicle Servicing Baldivis Log Book Vehicle Servicing Secret Harbour Automotive Engineering Port Kennedy Automotive Engineering Rockingham Automotive Engineering Baldivis Mechanical Repairs Rockingham Mechanical Repairs Kwinana Mechanical Repairs Baldivis Mechanical Repairs Mandurah Mechanical Repairs Port Kennedy
Authorised Vehicle Inspection Station.
The Vehicle Air Conditioning Specialists. MRB 3483 / AU 19873.
ROCKINGHAM MOTOR VEHICLE REPAIRS PORT KENNEDY.
Looking for Rockingham Mechanics? Rockingham Auto Repairs
When your car starts to let you down, the highly skilled crew at ID Automotive Repairs in Port Kennedy will promptly diagnose the problem, including any glitches or tricky electrical issues another company may have misdiagnosed or ignored.
Once we know whether your car needs a minor fix or a complete overhaul, and before we begin the work, one of our honest mechanics will inform you of your options and provide a cost estimate
---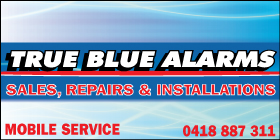 *True Blue Alarms - Auto Electrics Mobile Technicians Mandurah - Mandurah, 6210

MANDURAH AUTO ELECTRICS MOBILE SERVICE MANDURAH MOBILE AUTO ELECTRICS PINJARRA MOBILE AUTO ELECTRICS HALLS HEAD AUTO ELECTRICS FREMANTLE MOBILE AUTO ELEVTRICS HAMILTON HILL
MANDURAH CAR AUTO ELECTRICIANS ROCKINGHAM AUTO ELECTRICS MANDURAH, ROCKINGHAM CARAVAN ELECTRICS MANDURAH, GOVERNMENT APPROVED CAR ALARMS & IMMOBILISERS ROCKINGHAM, FACTORY ALARM UPGRADES ROCKINGHAM, CENTRAL DOOR LOCKING ROCKINGHAM , CARAVAN ALARMS ROCKINGHAM, CAR AUTO ELECTRICIANS FREMANTLE CAR AUTO ELECTRICIANS COCKBURN CAR AUTO ELECTRICIANS HAMILTON HILL CAR AUTO ELECTRICIANS SPEARWOOD CAR AUTO ELECTRICIANS GOLDEN BAY CAR AUTO ELECTRICIANS SECRET HARBOUR CAR AUTO ELECTRICIANS MEADOW SPRINGS CAR AUTO ELECTRICIANS CAR AUTO ELECTRICIANS SINGLETON REVERSING SENSORS ROCKINGHAM, INSTALLATION OF ELECTRIC BRAKE CONTROLLERS ROCKINGHAM, UHF/CB RADIOS ROCKINGHAM, DUAL BATTERY SOLUTIONS ROCKINGHAM, SPOTLIGHTS & REMOTE CONTROLS ROCKINGHAM CAR AUTO ELECTRICS ROADSIDE ASSISTANT ROCKINGHAM, Baldivis Auto Electrics Kwinana Auto Electrics Warnbro Auto Electrics Halls Head MOBILE AUTO ELECTRICIAN ROCKINGHAM AUTO ELECTRICS MANDURAH. AUTO ELECTRICIAN MOBILE MANDURAH ROCKINGHAM CARAVAN ELECTRICS MANDURAH.
True Blue Alarms offers a mobile service for Government approved Alarms, and Immobilisers, Factory Alarm Upgrades, Central door locking, UHF/CB radios, Reversing Sensors, Spotlights & Remote Controls, Dual Battery Solutions.
CALL BRETT AT TRUE BLUE ALARMS ON 0418 887 311 FOR A FAST AND EFFICIENT SERVICE

---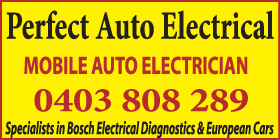 *Perfect Auto Electrical - Mobile Auto Electrician Rockingham -Free Call Out - Rockingham, WA 6168

ROCKINGHAM AUTO ELECTRICIANS, WARNBRO AUTO ELECTRICIANS, PORT KENNEDY AUTO ELECTRICIANS, KWINANA AUTO ELECTRICIANS
AUTO MOBILE ELECTRICS ROCKINGHAM, AUTO ELECTRICIANS WARNBRO, CAR BATTERIES ROCKINGHAM STARTER MOTORS ROCKINGHAM KWINANA ALTERNATORS, LIGHTS ROCKINGHAM 4X4 DUAL BATTERY SYSTEMS MANDURAH BATTERIES, ROCKINGHAM AIRBAGS,ROCKINGHAM ABS, IMMOBILISERS, SECRET HARBOUR CAR AIR-CONDITIONING, ROCKINGHAM Bosch Electrical Diagnostics AUTO MOBILE ELECTRICS KWINANA AUTO MOBILE ELECTRIC MANDURAH AUTO MOBILE ELECTRIC SECRET HARBOUR Help I need my car fixed auto electrics that come to you.
Perfect Auto Electrical are Specialists in all areas of vehicle servicing and maintenance including Bosch Electrical Diagnostics & European Cars - Free Call Out!
CLICK FOR FACEBOOK BUTTON ON FEATURE
---
---
---