Accommodation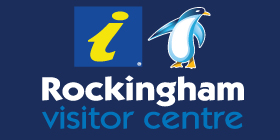 ROCKINGHAM VISITOR CENTRE - REDISCOVER ROCKINGHAM
- Rockingham, WA 6168
ROCKINGHAM ACCOMMODATION FREMANTLE ACCOMMODATION PERTH ACCOMMODATION MANDURAH ACCOMMODATION PINJARRA ACCOMMODATION BUNBURY ACCOMMODATION BROOME ACCOMMODATION GERALDTON ACCOMMODATION KALGOORLIE ACCOMMODATION

ROCKINGHAM ACCOMMODATION FREMANTLE ACCOMMODATION PERTH ACCOMMODATION MANDURAH ACCOMMODATION PINJARRA ACCOMMODATION BUNBURY ACCOMMODATION BROOME ACCOMMODATION GERALDTON ACCOMMODATION KALGOORLIE ACCOMMODATION BNB BOOKINGS PERTH BNB BOOKINGS FREMANTLE BUNBURY BNB BOOKINGS DONNEYBROOK BNB BOOKINGS SHORT STAY IDEAS WA TOURISM THINGS TO DO IN WA HOTEL BOOKINGS PERTH HOTEL BOOKINGS FREMANTLE HOTEL BOOKINGS ALBANY CARAVAN PARKS GERALDTON CARAVAN PARKS DONGARA DOG FRIENDLY CARAVAN PARKS KALBARRI CARAVAN PARKS CORAL BAY CARAVAN PARKS KARRATHA CARAVAN PARKS SHORT STAY BROOME THINGS TO DO IN THE NORTH CARAVAN PARKS MANDURAH CARAVAN PARKS ROCKINGHAM
The Rockingham Visitor Centre has a wide range of brochures and information to make your stay in Rockingham a memorable occasion.
The staff are experienced and will offer ideas for fun-filled holiday experiences.
If you are looking for an idea for your next holiday, ask the staff for some suggestions.
The centre has the resources to book your accommodation, your transport and local points of interest.
Conveniently located in the Gary Holland Centre,19 Kent Street, Rockingham Beach, the centre is your obvious first port of call to gather important information and local knowledge.
The City of Rockingham is a popular destination offering a wide range of visitor experiences and activities.
Just ask the staff and you will be amazed at the information available.
Rockingham promises a memorable and unique experience for every visitor.
Drop in or phone the centre on 9592 3464.
CLICK TO VIEW ROCKINGHAM VISITOR CENTRE & FACEBOOK ON FEATURE
---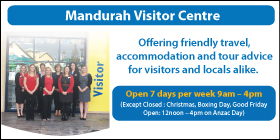 Mandurah Visitor Centre - Accommodation Mandurah - Mandurah, 6210

MANDURAH PEEL REGION
PEEL TOURIST INFORMATION MANDURAH.
Mandurah Visitor Centre located in central Mandurah offers friendly travel, accommodation and tour advice for visitors and locals alike.
CLICK TO VIEW MANDURAH VISITOR CENTRE & FACEBOOK ON FEATURE

---
---
---