4WD Service and Repairs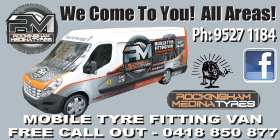 Rockingham Medina Tyre Service - 4WD Service and Repairs Rockingham 4WD Service and Repairs Kwinana 4WD Service and Repairs Mandurah 4WD Service and Repairs
- Rockingham, 6168
ROCKINGHAM 4WD SERVICE AND REPAIRS BALDIVIS 4WD SERVICE AND REPAIRS MANDURAH 4WD SERVICE AND REPAIRS KWINANA 4WD SERVICE AND REPAIRS SECRET HARBOUR 4WD SERVICE AND REPAIRS

ROCKINGHAM 4 WD SERVICE KWINANA 4 WD SERVICE MANDURAH 4 WD SERVICE PINJARRA 4 WD SERVICE SECRET HARBOUR 4 WD SERVICE KARNUP 4 WD SERVICE PORT KENNEDY 4 WD SERVICE TYRES MOBILE SERVICE FOR TYRES ROCKINGHAM TYRES BALDIVIS TYRES PORT KENNEDY TYRES SECRET HARBOUR TYRES KARNUP TYRES KWINANA TYRES ROCKINGHAM BATTERIES BALDIVIS BATTERIES KWINANA BATTERIES KARNUP BATTERIES LASER WHEEL ALIGNMENT ROCKINGHAM COMPUTERISED WHEEL BALANCING ROCKINGHAM MAG WHEELS ROCKINGHAM WHEEL BALANCES KWINANA WHEEL BALANCES KARNUP WHEEL BALANCES PORT KENNEDY WHEEL BALANCES SECRET HARBOUR WHEEL BALANCES GOLDEN BAY WHEEL BALANCE
Rockingham Medina Tyre service is your locally owned tyre professionals, offering a mobile and on site service.
We offer Mobile Tyre Fitting, Wheel Balancing, Batteries, Mag Wheels, Laser Wheel Alignment, VEHICLE REPAIR ROCKINGHAM FOUR WHEEL DRIVE SERVICE 4WD.
Licensed Repairer MRB 694
WE COME TO YOU.. Phone 0418 850 877 ROCKINGHAM, KWINANA, MANDURAH, ALL AREAS MOBILE TYRE FITTING VAN. ALL MAKES VEHICLE REPAIR ROCKINGHAM FOUR WHEEL DRIVE SERVICE 4WD.
---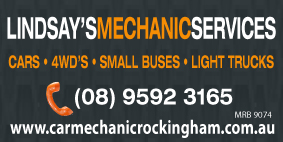 LINDSAY'S MECHANIC SERVICES 👨‍🔧🚚🔧 SPECIALISTS IN CARS - 4WDS - SMALL BUSES - VANS - TRUCKS SERVICE AND REPAIRS
- Rockingham, WA 6168
ROCKINGHAM 4WD SERVICE, GOLDEN BAY 4WD SERVICE, MANDURAH 4WD DRIVE SERVICE

4WD MECHANIC ROCKINGHAM 4WD VEHICLE REPAIRS WARNBRO 4WD SPECIALISTS ROCKINGHAM, 4WD AUTO ELECTRICIANS ROCKINGHAM AUTO ELECTRICS 4WD PORT KENNEDY 4WD REPAIRS AND SERVICING, BALDIVIS 4WD SPECIALISTS, SPECIALISTS IN FOUR WHEEL DRIVE VEHICLE REPAIRS BALDIVIS, KARNUP 4WD REPAIRS. Motor Vehicle Repair Rockingham - Car Servicing Rockingham - 4wd Service and Repairs Rockingham, Small Buses, Truck Servicing Rockingham
Lindsay's Mechanical Services a wide range of mechanical vehicles-cars, 4wd's, small buses and trucks. We are competitive on price and have many qualified mechanics to service your needs.
We have access to the latest tools including the revolutionary Snap-On Diagnostic vehicle programs.
No matter what vehicle brand you have, we can repair and service it. We can also come to you!
PHONE 9592 3156 TO MAKE AN APPOINTMENT
CLICK TO CONTACT & CLICK FOR FACEBOOK ON FEATURE
---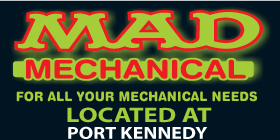 MAD MECHANICAL -🧑‍🔧 ✔️SERVICE AND REPAIRS ALL MAKES AND MODELS 🆘 EMERGENCY REPAIRS - ONBOARD INJECTION CLEANING HEADS & ENGINE REPAIRS AND REPLACEMENTS
- Port Kennedy, 6172
ROCKINGHAM 4WD DRIVE SERVICE & REPAIRS, PORT KENNEDY 4WD DRIVE SERVICE & REPAIRS, BALDIVIS 4WD DRIVE SERVICE & REPAIRS, SECRET HARBOUR 4WD DRIVE SERVICE & REPAIRS, MANDURAH 4WD DRIVE SERVICE & REPAIRS

PORT KENNEDY FOUR WHEEL DRIVE SERVICE ROCKINGHAM MOTOR VEHICLE REPAIRS PORT KENNEDY. ROCKINGHAM 4WD VEHICLE REPAIRS PORT KENNEDY. MOTOR MECHANICS ROCKINGHAM. VEHICLE REPAIRERS AND SERVICING CAR REPAIRS ROCKINGHAM, MANDURAH KWINANA VEHICLE REPAIRS PORT KENNEDY, CAR SERVICING AND REPAIRS ROCKINGHAM, PORT KENNEDY MANDURAH CAR REPAIRS AND SERVICING 4x4 SERVICES
Mad Mechanical is a family owned and operated business servicing vehicles in the Rockingham region for more than 12 years.
Ray and his team assure you will receive the absolute best mechanical repairs for most well-known car brands and models.
We offer every service and repair for your 4WD vehicles including TYRES. WHEEL ALIGNMENTS AVAILABLE ON REQUEST.
Mad Mechanical specialises in general repairs and servicing, 4x4 vehicles, fuel injection, brake, clutch and engine rebuilds, and onboard injection cleaning.
WE HAVE PHONE OR ONLINE BANKING AVAILABLE FOR PAYMENTS ENSURING OUR CUSTOMERS RECEIVE FULL PROTECTION AGAINST THE CURRENT SITUATION.
PHONE MAD MECHANICAL ON 9524 6683
---
---
---